Coca-Cola Wholesale Vietnam
Being present and operating officially in Vietnam for over 20 years. The Coca-Cola brand is one of the most famous international brands in our country. With about 2500 employees, of which more than 99% are Vietnamese Coca-Cola currently has factories operating in Ho Chi Minh City, Da Nang and Hanoi.
1. Coca Cola wholesale product lines
From its flagship product of carbonated drinks, Coca-Cola now diversifies products with many designs, colors and flavors such as Coca Cola light, Fanta, Maaza, Limca, Sprite, Thums Up, Minute Maid , Nimbu Fresh or Nested Iced Tea. These are all Coca-Cola beverage brands in more than 200 countries and territories around the world. The company has constantly researched and developed more new products such as Joy bottled water, Samurai energy drink, Sunfill fruit powder, and added new flavors for traditional products and Vietnamese tastes like Fanta Lemon, Fanta Strawberry, Fanta Soda.

Coca-Cola Brands Wholesale Supplier
In 2016, Coca Cola Vietnam launched Coca Cola zero sugar which competes directly with Pepsi, while meeting the trend of increasing consumption of low-sugar drinks by consumers to avoid obesity and road-related diseases. serious. In 2018, Coca-Cola launched Coca-Cola plus Coffee in Vietnam market, after the Australian and Japanese markets. It's combination of Coca Cola original with cafe to create great flavors. Energizing helps you wake up after tired working or studying hours.
1.1 What is Coca Light?
The Coca Light is a line of carbonated, non-sugar, dietary drinks, launched in 1982.
Artificial sweetener: Aspartame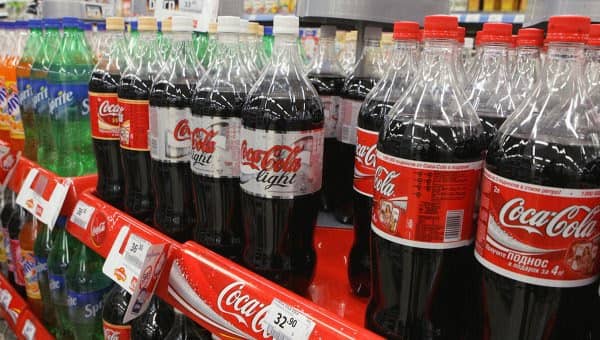 1.2 What is Coca Zero Sugar?
Coke sugarless is still a line of carbonated, sugar-free drinks but launched in 2005 with new improvements.
Artificial sweetener: Sucralose
1.3 Compare Coca Light and Coca Zero
Criteria

Coca Light

Coca Zero

Manufactured sweeteners

Aspartame

Sugars that can cause sugar cravings, affect mood, and increase insulin levels lead to accumulation of belly fat, irregular sleep.

Sucralose

Sweet sugar is 600 times more than normal sugar. However, sucralose is safer than other artificial sugars because the body only absorbs 27% of the sugar, the rest is excreted.

Quantify nutrition 100ml capacity

Calorie content 0, fat 0, sodium 40mg, protein 0, carbohydrate 0g

Calorie content 0, fat 0, sodium 40mg, protein 0, carbohydrate 0g

Smell

Users rate the Coca Light with artificial flavors unlike regular sugar, sweet taste

Many people think that Coca Zero has a pleasant sweet sweetness similar to the traditional cola
1.4 Original Coca cola
The taste of the original coca cola has been tried probably
Ingredients: Water saturated with CO2, HFCS sugar, cane sugar, food color, acid modifier, natural cola flavor, caffeine.
1.5 What is Coca-Cola plus coffee?
Most noticeable when you drink Coca-Cola cafe extra is the sweet taste of water. This is the result of 50% reduction in sugar consumption by manufacturers and caffeine instead. Coca – Cola used pure cafe powder to blend with its traditional Coca – Cola recipe with a volume of 13 mg Caffeine. The taste of this drink will now be much softer than the traditional Coca – Cola. Even if you drink without ice or chilled, you will not feel as harsh or intense as before. After feeling the Coca-Cola, you will begin to see the taste of coffee. You can rest assured because the coffee is extremely light and feels like being dissolved in Coca-Cola so rather easy to drink than regular coffee.
2. Distribution, export and trade Coca Cola Wholesale Vietnam
Coca-Cola wholesale has two forms: plastic bottle with capacity of 390 ml and a can 330 ml capacity.
Coca cola 330ml wholesale price: $0.30 ~ $0.35
Asia Grocery specializes in exporting Coca-Cola Wholesale by containers. If you are in need of importing Coca Cola Soft drink Vietnam. Please contact Asia Grocery Co., Ltd to have the best wholesale price