Vietnam Downy Fabric Softener
At Vietnam Downy, we're honored to be a distributor trusted by so many importers around the world, and we're working hard to keep your trust. We know you may be looking for a trustful Downy supplier from Vietnam, so we want to share how Downy Fabric Softener produced by P&G Vietnam to you on the steps we take to ensure that all of our Downy products are genuine.

Who owns downy fabric conditioner?
Downy fabric softener is the world-famous fabric softener brand of P&G company, to meet consumers' needs and preferences. Therefore, Downy fabric conditioner has been improving the quality and constantly refreshing the packaging to attract customers.
This fabric conditioner is suitable for many fabric materials as well as with many different washing machines. Downy in addition to traditional incense also applies perfume transfer technology, long-lasting incense. Downy Bag packaging makes your material conditioner practical to store as well as easy to use.
What are the products of Downy?
Downy provides a line of advanced fabric care conditioning products that helps keep clothing really feeling soft and scenting fresh.
Therefore, Downy's family of fluid fabric softeners includes: Downy sunrise fresh, Downy 1 Banlaw, Downy anti-bac, Downy Sakura, Downy machine dry, Downy fresh wind, Downy expert indoor and Downy perfume collections(Downy Sweetheart, Downy Daring, Downy Passion, Downy Secret Garden, Downy Aqua Ocean, Downy Fresh Flower, Downy Sweet Flower).
Downy fabric softener ingredients such as Water, Diethylester Dimethyl Ammonium Chloride, Alcohol ethoxylate, Slicone, Cationic acrylic-based homopolymer, Glutaraldehyde, Hydrochloric Acid,… Downy fabric conditioner smooths and strengthens fibers to protect clothes from the damage of the wash, helping them maintain their shape. Your clothes go through a lot during the laundry process.
Distributor, exporter and wholesale supplier of Downy fabric softener
We specialize in exporting downy fabric softener by container. If you are looking for suppliers in Vietnam, please contact Asia Grocery Co., Ltd to have the best wholesale price.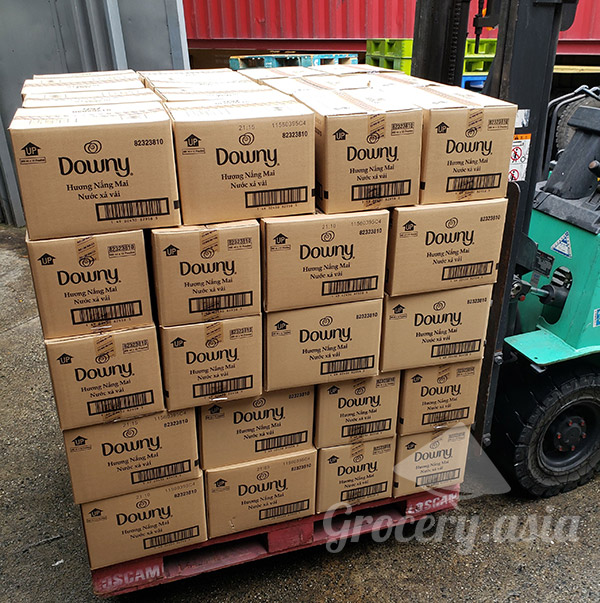 Address: C2.04 Level 2, The Symphony-Midtown building, Street 15, Tan Phu, District 7, Ho Chi Minh, Vietnam
Phone: +84 909 046 308(WhatsApp, Viber).
Email: contact@egrocery.asia
Showing 1–12 of 100 results