Showing 1–12 of 24 results
---
Vietnam OMO Laundry Powder Detergent
Once Vietnamese people think about powder detergent, the first brand that comes to their mind immediately is OMO. OMO detergent is one of many brands belonging to Unilever, a multinational enterprise established in 1930 and based in Rotterdam, London. In Vietnam, OMO was launched for the first time in 2003 and from then until now, it has been kept in consumer's mind as a stably good brand that no brand can pass over. And OMO was also the first brand of detergent for washing machines in the Vietnam market at that time.
In 2004, OMO Tet product came out and soon became one of the core and intriguing brands in Unilever business strategy. In the same year, OMO had a new formula that can remove stains even in the most-difficult-to-wash area and became professional in removing the hardest smudge.
Until now, OMO gained 60% Vietnam detergent market share and 98% Vietnam households have at least one time to test OMO.
TABLE OF CONTENTS
1.Product line of OMO Laundry Detergent Powder 2020
OMO detergent wholesale is always passionate about becoming the best laundry solution and the good friend of the housewife, always bringing dynamism and confidence to the whole family through fine white clean clothes.
OMO Powder detergent now have three main categories: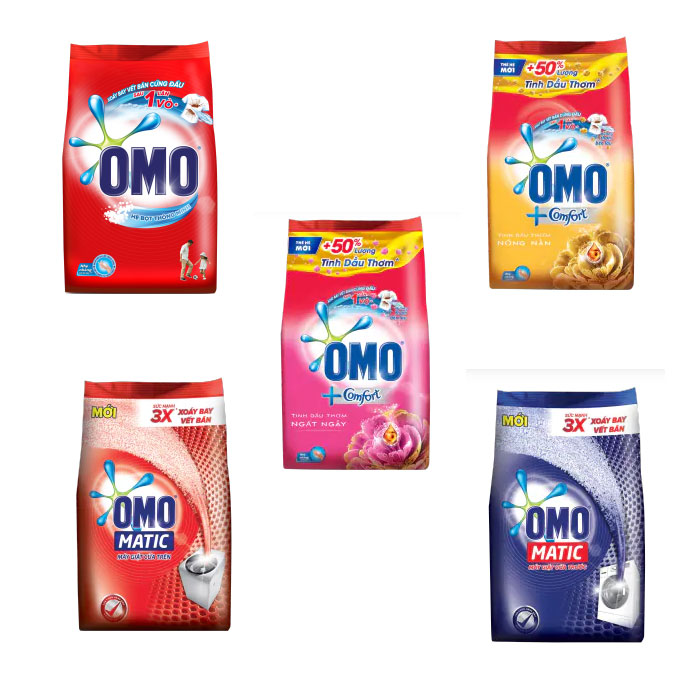 OMO Hand wash Powder detergent:OMO hand-washing powder detergent is very popular with Vietnam households. The first feature is the formula with pH suitable with hand skin (tested and certificated by National Hospital of Dermatology and Venereology). The second one is the foaming ability that can save time to dissolve for the household. OMO Hand Washing Powder is so powerful, it's as good as having 10 hands to remove tough stains. OMO hand-washing powder is tough on oily stains on cuffs and collars which take a lot of scrubbing. Removing tough stains from your children's clothes takes a lot of time and effort and sometimes the stains still won't go away – OMO with a power of 10 hands is more effective than ever. With just one scoop, the powder dissolves instantly and penetrates into your clothes to reach even the toughest stains like oily sources with less effort.
OMO Auto washing Powder detergent: Many people have a prejudice that hand-washing can remove dirt better than a machine. OMO knows this matter so OMO creates the formula of OMO Matic with 3 activated materials that can remove smudge in the drum of the washer without taking so much time for soaking, washing. The most effectiveness of OMO Matic on clothes are whitening, brightening, swiping meanwhile still keeping the color of fabric. OMO Auto washing powder is the expert at removing tough stains in your machine. OMO Auto powder penetrates deep into the fibres of your clothes to remove even the toughest of stains. OMO Auto Powder is suited for all machine types and is recommended by the leading machine manufacturers. Just one scoop is enough to remove the toughest stains in your machine.
OMO with a Touch of Comfort for both Hand wash and Auto washing Powder detergent: OMO Hand washing Powder With a Touch of Comfort is so powerful, it's as good as having 10 hands to remove tough stains whilst giving you 14 days of freshness!

Omo hand washing powder is tough on oily stains, on cuffs and collars which take a lot of scrubbing. It also provides great fabric care, making it an excellent stain remover that cares for your clothes, leaving it looking and smelling good.

Introducing a new OMO Auto variant with Comfort Freshness. It offers the fast stain removal that you know and trust now with the sensational freshness of Comfort.

OMO Comfort Freshness penetrates deeply into fabrics to remove tough stains fast while infusing the fabric with aromatic oils to give your clothes a new sensational fragrance. OMO Auto with Comfort Freshness gives you a fast, effective and enjoyable laundry experience
2. Uses of OMO detergent wholesale
Dissolve 1 tablespoon detergent into the basin (4-5ml of water).

Soak clothes in pots for about 30 minutes, soak white clothes and colored clothes separately.

Gently rub the dirty areas.

Rinse thoroughly and spin dry the clothes.
Waring:
Keep out of reach of children.
Do not swallow.

Avoid contact with eyes, if you get into eyes, rinse thoroughly with water.
3. OMO detergent Vietnam exported to all country
The closed bond between Unilever Vietnam and small & medium domestic companies supported these corporations much to increase their exported volume and competency in the regional and international market. Unilever keeps good ties with the Vietnam community and economy and domestic corporations (even subsidiary, supplier or partner…) This connection is the base for the effective Supply chain system with reasonable expenditure to satisfy the best for the consumer.
Wholesale OMO detergent exported mainly to Philippines, Australia, Malaysia, Singapore and Japan markets ...The goal of Unilever Vietnam is to serve domestic consumers as well as export to increase the competitiveness of Unilever in the market.
==> See all kind of: OMO wholesale
4. Wholesale OMO laundry detergent Vietnam
We specialize in exporting OMO detergent wholesale Vietnam by containers. If you are looking for supplier, distributor, exporter and trader OMO detergent Vietnam. Please contact Asia Grocery Co., Ltd to have the best wholesale price.
Website: https://egrocery.asia