Why should I use Comfort Vietnam when washing clothes?
To take care of the clean and fragrant clothes for the housewives and sisters. It is necessary to use fabric softener. More specifically, you need to know how to choose which fragrant fabric softener suits your family's preferences. Try using some Comfort fabric softener Vietnam.

All kind of Comfort Fabric Softener Vietnam
Referring to Comfort, you have thought of a mild and cool fragrance. This is a famous brand in the world and very popular in Vietnam. Comfort uses naturally available ingredients, so it is safe when you discharge clothes. The itchy, uncomfortable worries of wearing bad clothes will be removed when using Comfort.
Manufacturer of comfort fabric conditioner: Unilever Vietnam
Comfort fabric conditioner expiry date: 2 years.
The main product line of Comfort fabric softerner vietnam with bottle and refill packing. ==> See all Comfort Fabric Conditioner Vietnam
Rinse soap bubbles in just 1 flush. Comfort fabric conditioner blue has been studied using soap de-foaming compound, with well-tested properties and dosages to ensure safety for both human health and the environment. Ensure the clothes are clean and fragrant for a long time, do not cause skin irritation.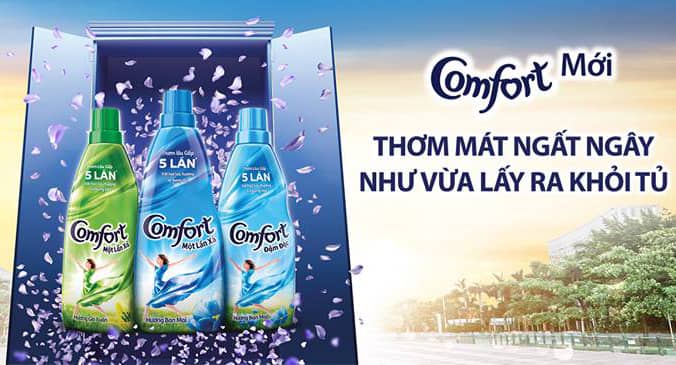 Inspired by France, which has long been dubbed the perfume capital of the world, the Comfort Series of natural perfume offers a luxurious, noble fragrance with natural French flower essences. Thoroughly distilled from the beautiful French flower fields, with subtle, seductive aromas but also fully deposited in fabric softener for clothes.
Comfort fabric conditioner baby that meets all your needs for baby fabric conditioner. The product keeps the fabric smooth, the baby's clothing becomes soft whenever touched. With a mild scent formula and does not contain bleach. Comfort sensitive fabric conditioner is ideal, for babies to be safe, soft and happy.
Take care of gentle clothes with 100% natural extracts. This latest collection will be the "salvation" for the wardrobe of every fashion lover. Contains 100% natural extracts, Comfort Nature meets everyone's gentle care needs, while still ensuring the inherent values of fabric softener: handy – mild fragrance and suitable price.
Benefits of using Comfort fabric softener
You should learn how to use fabric softener to store the fragrance. In addition to the great benefit of keeping the fragrance on clothing, blankets in the family of fabric softeners. There are other interesting benefits that you should use. Comfort fabric softener is indispensable for every family because of the great benefits it brings. In addition to the benefits from the aroma and softness of clothes, you can easily see many other benefits from this useful product.
The most obvious benefit of comfort fabric softener is that it makes soft clothes. In particular, wool suits will no longer be stiff and itchy when worn. Moreover, when using fabric softener, you will see the surface of the clothes smoother. Also, when you use fabric softener, washing clothes are much faster. You will save a lot of time and energy when you're flat. At the same time, you will also enjoy the cool scent, follow you throughout the day.
Distributor, exporter and trader Comfort Vietnam
Comfort sensitive fabric softener 800ml bottle price carton is about $30.48
We are specializes in exporting Container by containers. If you are looking for suppliers or agency Comfort Vietnam. Please contact Asia Grocery Co., Ltd to have the best wholesale price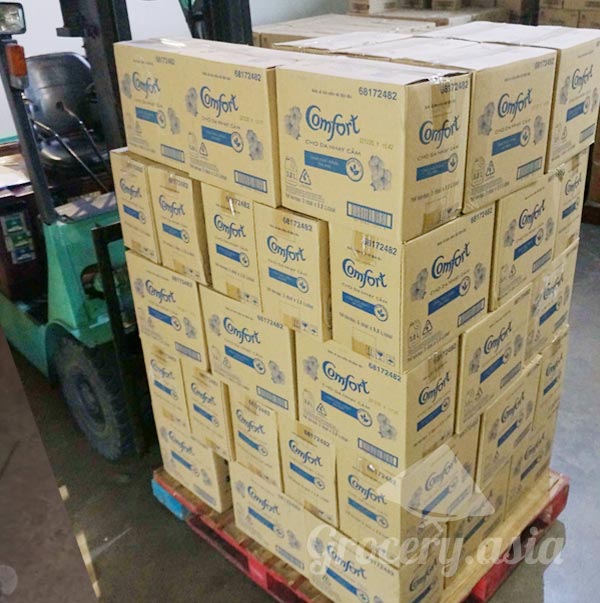 Address: C2.04 Level 2, The Symphony-Midtown building, Street 15, Tan Phu, District 7, Ho Chi Minh, Vietnam
Phone: +84 909 046 308(WhatsApp, Viber).
Email: contact@egrocery.asia
Showing 1–12 of 46 results