Trung Nguyên is a Vietnamese business group involved in the production, processing and distribution of coffee. Trung Nguyên is the largest and domestic coffee brand within Vietnam, and exports its products to more than 60 countries, including major markets such as G7 countries, United States, European Union, United Kingdom, Germany, China, Canada, Russia, Japan, Dubai and Asean.
Starting in 1996 Trung Nguyen was a small business processing coffee in Ban Me Thuoc city.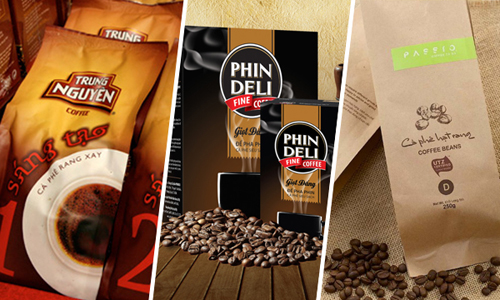 2003 G7 instant coffee product was born by the event "Air Coffee Festival G7 "at the Reunification Palace on 23/11/2003 has attracted thousands, participants are marked and marked by a direct blind test, most popular instant coffee between G7 instant coffee and others brand in the world. As a result, 89% of those who chose G7 were the favorite.
The impressive breakthrough of G7
The World Coffee Organization says growth of soluble coffee production worldwide increased by between 8 to 10 per cent since the emergence of Vietnam as a major producer.
After proving that it could meet the strict quality standards imposed by the world's largest retailer, Walmart, G7 made its first sale to the US-based supermarket giant in April 2015.
By 2011, G7 had spectacularly soared in popularity to capture the most market share in Vietnam three years in a row. G7's pledge to represent Vietnamese coffee on the international stage.
The G7 series
G7 is the world's best-tasting gourmet instant coffee, famous throughout Southeast Asia. The 3-in-1 contains coffee, non-dairy creamer and 8 grams sugar per serving. Just add 6 oz. hot water and stir for gourmet coffee anywhere – at home, in hotels, camping, at work, etc…
G7 comes in two shapes, elegant Café Sticks (long, narrow packets) and 22- and 50-sachet bags (sachets are flat, rectangular packets).
Nutrition facts per 16 gram packet:
Calories: 72 (From Fat: 26)
Total Fat: 2.4 grams
Sat. Fat: 2.3 grams
Trans Fat: 0 grams
Cholesterol: 0mg
Sodium: 44mg
Carbohydrates: 12.5g
Dietary Fiber: 0.5 grams
Sugar: 12 grams
Protein: 0g
X2 is the same formula as regular G7, but each packet contains 25 grams of instant coffee powder instead of the usual 16 grams. As a result, each packet makes 60% more coffee, enough for a hearty 8oz cup. Use two packets to fill a big 16oz travel mug!
Trung Nguyen has translated their hugely popular, naturally low-caffeine Passiona coffee into a delicious instant coffee! It's a 3in1 coffee, which means it has non-dairy creamer and is sweetened with zero-calorie sweetener. The coffee has a slightly different taste from regular G7, too, partly because of the naturally low-caffeine coffee beans used.
Trung Nguyen envisions G7 Passiona as a healthy drink and has spared no expense in this effort. The creamer is 100% trans-fat free. The sweetener is sugar alcohol or Isomalt, and is found naturally in fruit. Pure vegetable collagen, a natural protein, has been added to support skin health. We can't make any medical claims, of course, but we absolutely love the taste.
Nutrition facts per 16 gram packet:
Calories: 72 (From Fat: 26)
Total Fat: 2.9 grams
Sat. Fat: 2.7 grams
Trans Fat: 0 grams
Cholesterol: 0mg
Sodium: 60mg
Carbohydrates: 10g
Dietary Fiber: 0.5 grams
Sugar: 0 grams
Sugar alcohols: 9.5 grams
Protein: 1g
G7 Pure Black Instant Coffee
G7 black instant coffee for those who prefer their coffee black, or simply prefer to add their own cream or sugar to their coffee. Also mixes in cold water!
G7 black instant coffee a number of advantages: it does not contain any added calories from added creamer or sugar, it can be mixed directly into cold water for iced coffee, during the hot summer months, iced coffee is particularly pleasurable, but regular G7 must always be mixed in hot water first before being poured over ice. This can be tricky because the ice melts and may dilute the coffee. With Black G7, there's no problem making coffee as cold as you like, anywhere you have access to ice and water and want to enjoy a glass of gourmet iced coffee. It's packet size is very small and fits easily in a wallet, and, of course, many people just prefer black coffee.
G7 Cappuccino instant coffee, G7 Hazelnut Cappuccino instant coffee, G7 Mocha Cappuccino instant coffee
G7 Cappuccino series in a larger packet size with more creamer to produce a rich, creamy, satisfying cappuccino with a layer of froth on top. This is a really special. The packet size makes a slightly larger cup of coffee than the regular G7. The flavors are pleasant but not overpowering, with less sugar and less fat than other cappuccino mixes, so it's healthier, too.
Hazelnut Cappuccino is rich and satisfying, with traditional Hazelnut.
Mocha Cappuccino is lightly enhanced with cocoa.
Beside G7 instant coffee series, Trung Nguyen group have ground coffee series such as Creative Coffee, Legendee, Filter Coffee