Mentos Gum Perfetti Van Melle Vietnam
Perfetti Van Melle (Vietnam) is one of 35 subsidiaries of Perfetti Van Melle Group – the world's leading candy producer, based in Lainate (Italy) and Breda (Netherlands). Our products are favore by Vietnamese consumers such as: Alpenliebe, Golia, Cofitos, Mentos Fresh Action Chewing Gum, Happydent, Big Babol, Chupa Chups. Mentos Gum Perfetti Van Melle (Vietnam) was vote as "1 of the top 50 employers in Vietnam" in the survey on "employee satisfaction level for the company" by AC Nielson, Navigos, and Thanh Nien newspaper held in 2007.
Gum made from … resin
Gum (also known as gum or transcribed gum) is a soft candy designe to chew without swallowing. Each company has a separate recipe for chewing gum. However all types have the same basic ingredients. Except for special ingredients to provide delicious flavor for candy. It will be kept secret. The basic ingredients are flexible substrates, softeners, sweeteners and flavorings. Flexible substrate is the main raw material in gum today.
About 60 or 70 years ago, the common "base gum" made from chicle was a milky white plastic derived from Mexican-grown sapodilla, countries in Central America and the Caribbean. In the mid-1900s, scientists learned how to make synthetic rubber a substitute for most natural rubber substances in chewing gum. Most types of rubber are made from synthetic rubber or a mixture of artificial and natural substrates.
See more about benefit from chewing gum
There are many different types of chewing gum
Gum has many different flavors, shapes and sizes. Today there are basic types such as:
Blowing gum: Not only can you eat candy, you can also blow funny bubbles from chewing gum.

Sugarless gum: Instead of sugar, sugarless gum has artificial sweeteners to provide sweetness.

Round chewing gum: This candy is shaped like a ball. This is one of the most popular types.

Kernel gum: In the core of candies containing a soft mass is usually a quite tasty flavored liquid such as liquid chocolate.

Stick gum: has a thin, flat, rectangular shape.

Strip gum: Like a longer but longer chewing gum, rolled into a cylindrical block, chewers can tear it apart if desired.

Medicated gum: A type of candy intended to put drugs in the bloodstream faster than pills.

Functional gum: Is a rubber with a certain function. For example, use candy to provide caffeine, vitamins or something to the body.
Pure mentos gum rolled fresh
"Mentos gum has expande its pocket favorite range to include Mentos Fresh Action Chewing Gum. Since 1932, Mentos candy has satisfied consumers with high quality, delicious, chewing. Easy to share and handy to keep in your pocket as you move. Mentos has release Mentos Pure Fresh gum rolls to bring you freshness whenever you need it."
From chewing gum to the world's third largest confectionery group. Big Babol is familiar to Vietnamese, Indonesian, and Chinese. But may be quite strange to Americans or British. Because it is only a regional brand of confectionery group from Perfetti Italy Mel Melé. This group was born in March 2001 with the merger between two confectionery companies with a long history of Italy and the Netherlands: Perfetti SpA and Van Melle N.V. Previously. In 1991 Perfetti bought 37% of Van Melle's shares.
By 2006, Perfetti Van Melle bought the Spanish private candy company. That owne the Chupa Chups brand and Mint to strengthen its position in the world confectionery market. Since then, this group quickly rose to the 3rd in the world after Mondelēz International (the group bought 80% of Kinh Do Vietnam confectionery segment) and Mars.
About Perfetti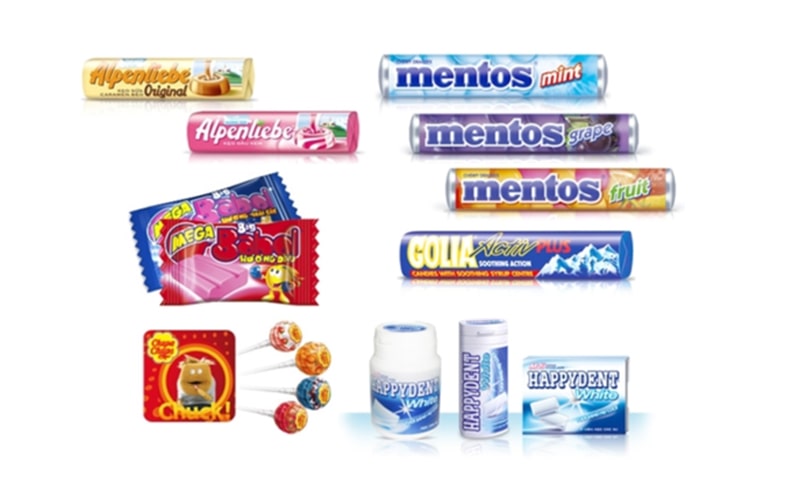 The story began in 1946 when the Ambrogio brothers and Egidio Perfetti founded Dolcificio Lombardo company specializing in the production of sweet candies and gum in Lainate, a small town on the outskirts of Milan, Italy.
By the mid-50s, the Perfetti brothers decided to produce chewing gum, a product considered traditional by the United States and brought into Italy by allied soldiers. Dolcificio Lombardo is the company that created the first Italian chewing gum named Brooklyn.
In 1968, the Perfetti brothers decided to establish Gum Base to supply chewing gum and is now one of the world's leading gum material producers. Two years later, Perfetti marked the world with popular brands such as Big Babol, Morositas, Vigorsol, Happydent, Vivident, and Alpenliebe.
In the 1980s and 1990s, Perftti acquired Caremoli (owner of Golia brand), Gelco, La Giulia in Italy, to meet the need to expand its business.
About Van Melle N.V
This company has a longer history than Perfetti. In the early 20th century, Izzak van Melle opened a small confectionery shop in Breskens, the Netherlands on the basis of converting his grandfather's bakery to leave. By 1932, two brothers Michael and Pierre Van Mell learned how to make fruit candy from Poland and decided to go to Holland to produce candy called Fruittella. From Fruittella, they continue to create mint-flavored soft candy named Mentos Fresh Action Chewing Gum.
The second war end and the Breskens factory was destroy, forcing the company to relocate to Rotterdam. After a period of stable production, along with the appearance of packing ingots. Mentos and Fruittella became popular in the world.
In the 1980s, Van Melle decided to expand the category of fondant products as well as acquire a number of other large companies such as Gebt, Verdujin, Look-o-Look and Pepco, and expand business operations to emerging markets like Brazil, Thailand, Indonesia, Philippines. In the late 1990s, the company shifted to exploiting Asia with the construction of a series of large factories in Indonesia, China, India.
The third component that cannot be ignored by Perfetti Van Melle is the Chupa Chups.
After inheriting the candy company found by his grandfather in Barcelona, ​​Spain, Enric Bernat. They hire a French consulting firm to study the habit of eating candy by consumers.
He found that sweets were not designe specifically for children, so eating candy always made the limbs dirty. With 67% of customers being children under the age of 16. He decide to create candy with a fork, not to dirty his hands.
At first the lollipop-like lollipop was name GOL (Spanish for the goal) but later change to Chups and later change to Chupa Chups. With the popularity of Chupa Chups. In 1964 the original company name Granja Asturias was change to the name of the candy.
According to Perfetti Van Melle, gum revenue accounts for 41% of the group's share in 2012. Euromonitor, 22% of total revenue comes from Italy. Financial data in 2011, Bloomberg valued Perfetti Van Melle at the value of 6 billion USD.
Pure mentos rolled fresh
"Mentos has now expanded its pocket favorite range to include Mentos Pure Fresh chewing gum. Since 1932, Mentos candy has satisfied consumers with high quality, delicious, chewing. Easy to share and handy to keep in your pocket as you move, Mentos has released Mentos Pure Fresh gum rolls to bring you freshness whenever you need it."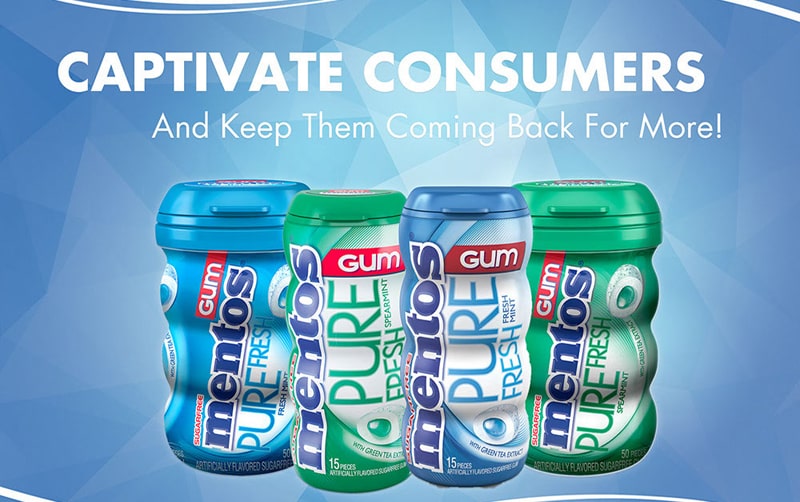 The taste of Mentos
The fresh taste of Mentos Pure Fresh gum gives you a long-term freshness and confidence when talking. Fresh, full chewing gum with green tea extract brings intense and pure freshness. They are available in many flavors such as Fresh Mint, Spearmint, Bubble Fresh and Eucalyptus Mint.
Turns out, there are ingredients use in chewing gum … nylon bags and glue! We eat chewing gum for clean teeth, aromatic mouths, or chewing on habits … without knowing that most chewing gum contains … plastic! Iceland has just announced that it will become the first major UK market to sell non-plastic chewing gum.
Perhaps we have chewed … plastic?
Iceland did a study before making the statement, and it turns out. We are not the only ones who don't know much about chewing gum: 85% of the interviewees didn't know that in Plastic gum!
In the past, people used natural materials to make chewing gum, like chicle. But later, scientists found easier ways. And "easier ways" can be a combination of the following ingredients: butadiene-styrene rubber, butyl rubber, paraffin, petroleum wax, synthetic petroleum wax, polyethylene, polyvinyl acetate.
These substances have also been approve by the US Food and Drug Administration for use as chewing gum. But if you don't use those scientific "beauties", they're actually plastic, rubber and wax. Polyethylene is used in nylon bags and children's toys, while polyvinyl acetate is one of the components of … glue.
Manufacturers are not oblige to disclose which of the above ingredients they use. How much (they just need to write down the "base gum"), so you can't know if you eat them. Of course, if you accidentally swallow the gum. Then because the body doesn't digest the plastic components, you will … discharge it.
Anyway, the authorities in the UK encourage manufacturers to create chewing gum. That is completely safe for both health and the environment, without plastic ingredients. Because the gum is thrown away (after eating) is very harmful to the environment. When it is not soluble in water, it is very difficult to decompose. This is not to mention with the plastic and wax in candy, some people with easy-to-irritate conditions can also be allergic without knowing it.
Source: https://egrocery.asia/