Pantene Hair Fall Control Shampoo 170G
Barcode
4902430386807

(Click logo to view entire product range)
| | |
| --- | --- |
| SKU | PC01020060235 |
| HS Code | 33051090 |
| Place Of Origin | Thailand |
| Label Text | English, Vietnamese |
| Units Per Carton | 24 |
Retail Per Carton
(For reference only)
Retail Per Unit
(For reference only)
WHOLESALE ONLY

100% Genuine Product

Quick Delivery

Export to All Countries
Customers who bought this item also bought related products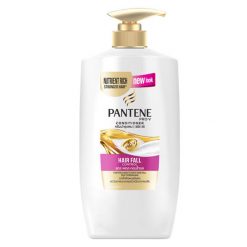 Pantene Hair Fall Control
Pantene Hair Fall Control Shampoo Information
Pantene Hair Fall Control Shampoo is suitable for reducing hair loss caused by dehydration. The product contains a mixture of Pro-V nutrients, containing Pro-Vitamin B5 also known as Panthenol which is able to penetrate deeply, and nourish the hair from root to tip. Moreover, Panthenol will combine with Panthenyl Ethyl Ether to balance moisture to reduce hair loss, enhance nutrients, nourish hair from deep inside and restore the hair's protective Keratin layer from environmental influences, giving back users the healthy, fluffy, smooth, soft hair all day long whether in wet or dry weather. Therefore, the product is suitable for anyone who want to have silky smooth hair, and the pleasant sweet fragrance that stays on hair will help users attract people around. Finally, the product has a gentle formula that does not cause skin irritation; can be used for both permed and dyed-treated hair.
Recommended for use with Pantene Hair Fall Control Conditioner for a maximum silky smooth hair effect.
Ingredients of Pantene Hair Fall Control Shampoo 170G
From past to present, Pantene's team of scientists constantly researches and develops to make famous and quality hair care Pantene products; from shampoo bottles released in 1945 containing pro-vitamin B5 for smoothly, shiny and healthy hair to Pantene's latest hair care products that are combined with B5, powerful antioxidants, natural and lab-tested fats make Pantene products both pass rigorous testing for safety and ensure to provide a rich source of nutrients to hairs, bringing satisfaction to users.
Uses of Pantene Hair Fall Control Shampoo 170G
Apply a sufficient amount of shampoo on wet hair & gently massage, rinse with water. Repeat as needed.
Warning:
After each use, close the lid tightly.
Do not expose it to sunlight and high temperatures for long periods.
Keep out of the children's reach.
Wholesale selling Pantene Hair Fall Control Shampoo 170G
We specializes in exporting Pantene Hair Fall Control Shampoo by containers. If you are looking for suppliers in Vietnam. Please contact Asia Grocery Co., Ltd to have the best wholesale price.
Address: C2.04 Level 2, The Symphony-Midtown building, Street 15, Tan Phu, District 7, Ho Chi Minh, Vietnam
Phone: +84 909 046 308(Whatsapp, Viber).
Email: contact@egrocery.asia