Tide Bucket 9kg
Barcode
4902430702942

(Click logo to view entire product range)
| | |
| --- | --- |
| SKU | HC02010020082 |
| HS Code | 34011990 |
| Place Of Origin | Vietnam |
| Label Text | Vietnamese |
| Units Per Carton | 1 |
Retail Per Carton
(For reference only)
Retail Per Unit
(For reference only)
WHOLESALE ONLY

100% Genuine Product

Quick Delivery

Export to All Countries
Customers who bought this item also bought related products
Tide 9kg
works in the washing cycle by combining the power of deodorants and detergents, to help you remove visible stains from dirt as well as invisible odors, giving your fabric a deep clean and delightfully freshness.
In addition, Tide with downy 9kg bucket also saves water and electricity, eliminating stains that are difficult to wash, even during a cool wash cycle with the ability to clean 6 times in half the wash time. Besides, by incorporating Downy softener in the washing process, these products will make your clothes softer, fresher, with fewer wrinkles, and less electrostatic.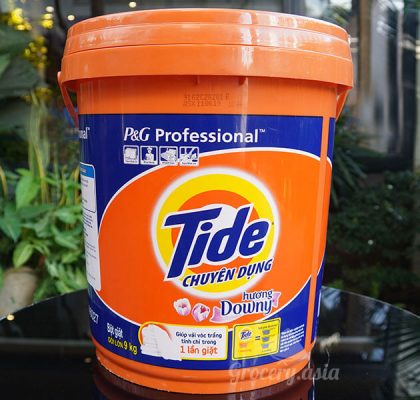 Ingredients
Tide 9kg are suitable for all types of water because their manufacturers have utilized advanced scientific inventions. These properties make tide powder 9kg very powerful cleansers with the ability to break up items such as dirt, oils, and greases found in clothes, on dishes, and on other surfaces. Tide also comes with powerful antiseptic activity to sanitize various laundry items by killing bacteria on different types of fabrics such as towels, clothes, bedding, among others.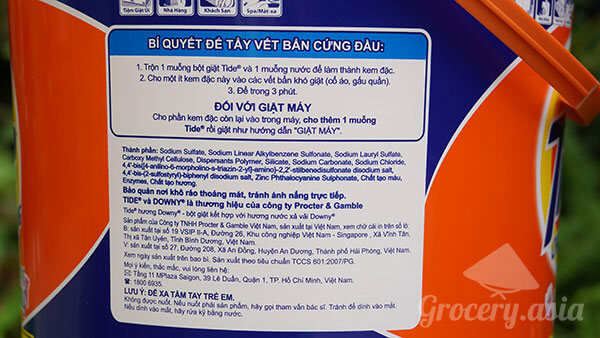 Consumers can count on the safety of the users of P&G products because safety is the top priority and the foundation of their operations. The ingredients of the product are listed in a clear, honest, and transparent manner on the packaging as well as on the online communication channels.
Uses of Tide 9kg Bucket
For hand washing: dissolve 1 teaspoon of Tide Plus Downy Powder Laundry Detergent
with 4-5 liters of water, soak clothes in this solution for at least 30 minutes before washing to achieve the highest washing results. Wash white and colored clothes separately.
For machine washing: dissolve 2 tablespoons of Tide Plus Downy Powder Laundry Detergent
for 25-30 liters of water. This detergent is most effective when being soaked first.

Usage Of Tide detergent powder
Vietnamese Tide Bucket 9kg exported to several countries
P&G sells downy fabric conditioner wholesale to Korea, American, Australia, and Japan markets …The top goal of P&G Vietnam is to serve domestic consumers. However, P&G never ignores good opportunities to increase the competitiveness of P&G in the world market.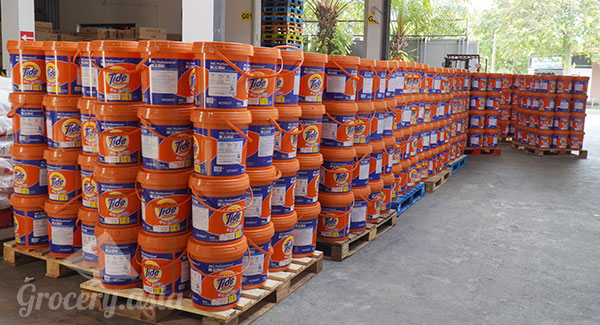 Distributor, exporter and wholesale supplier of Vietnamese Tide 9kg bucket
Tide 9kg bucket price – Vietnam origin is about $18.10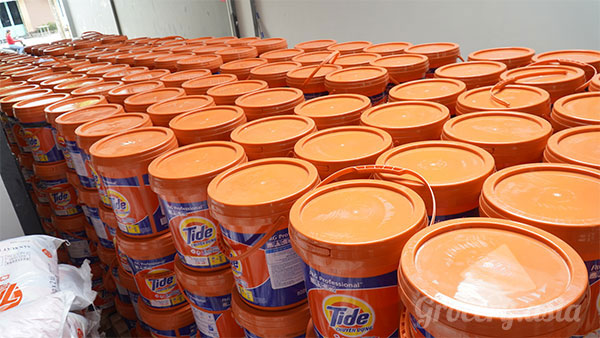 We specialize in exporting tide laundry 9kg by container.
If you are looking for suppliers in Vietnam, please contact Asia Grocery Co., Ltd to have the best wholesale price.
Address: C2.04 Level 2, The Symphony-Midtown building, Street 15, Tan Phu, District 7, Ho Chi Minh, Vietnam
Phone: +84 909 046 308(WhatsApp, Viber).
Email: contact@egrocery.asia