C2 Black Tea Peach Flavor 455ml
| | |
| --- | --- |
| Barcode | 8934564600607 |
| HS Code | BE01070007310 |
| Label Text | Vietnamese |
| Place Of Origin | Vietnam |
| Unit Packing | Bottle |
| Units Per Carton | 24 |
| Export Packing | Wrapped Tray |
| Cartons per Pallet | 130 |
| Self-life | 12 |
Retail Per Carton
(For reference only)
Retail Per Unit
(For reference only)
WHOLESALE ONLY

100% Genuine Product

Quick Delivery

Export to All Countries
Customers who bought this item also bought related products
C2 Black Tea Peach Flavor 455ml
Distilled from 100% natural tea processed as well as bottled in the very same day by C2, giving an incredibly rich tea flavor. C2 peach red tea 455ml offers you a new option in delighting in tea, helping to satiate thirst, renew energy for a long, energetic and revitalizing day.
C2 red tea fruit flavor – fresh for an active day
C2 is a brand name of bottled tea very acquainted to Vietnamese customers, C2 Tea is distilled from 100% all-natural eco-friendly tea in the highlands of Vietnam, processed as well as bottled on the exact same day according to worldwide requirements, helping make sure the freshness and purity of the tea. C2 tea has several delicious flavors and budget friendly price, is the first choice of consumers.

A box of 24 bottles of C2 455ml peach red tea from C2 tea brand name is made from normally fermented tea leaves with an abundant tea flavor combined with the light, wonderful preference of peaches – offering you a packaged tea item. Aromatic bottle of peach tea is revitalizing, ultimate beverage. Tea has numerous antioxidants that aid you remain energetic, alert as well as healthy and balanced all day. The tea dish is fermented during the day to maintain the nutrients in the tea undamaged and the taste is much less wonderful so you don't have to fret about illness.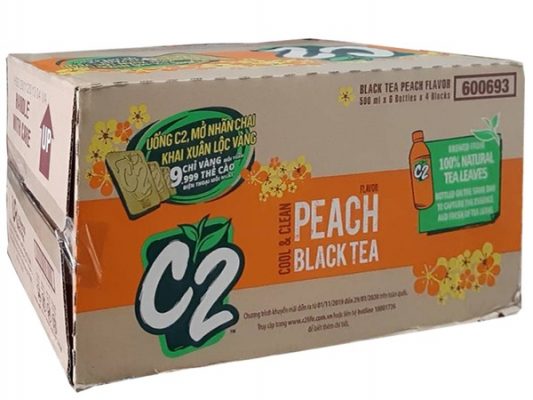 Super-saving 24 bottles in container type – a clever option for Tet holiday
The packaging of 24 containers x 455ml has an extremely desirable cost when compared to buying retail containers. Suitable to purchase progressively or use in gatherings with advantageous prices.
The bottle has a capacity of 455ml, is small as well as practical with a flexible style that is very easy to hold as well as an eye-catching, vibrant external shell, making it very easy to appreciate without investing much time processing. Container with huge capacity however still just sufficient, ideal for those that particularly enjoy the preference of C2 tea as well as wish to appreciate it slowly.