Downy Sunrise Fresh Concentrate Fabric Conditioner 1.6L Refill
Barcode
4902430245012

(Click logo to view entire product range)
| | |
| --- | --- |
| SKU | HC01010010006 |
| HS Code | 34022015 |
| Place Of Origin | Vietnam |
| Label Text | English, Thai, Vietnamese |
| Units Per Carton | 6 |
Retail Per Carton
(For reference only)
Retail Per Unit
(For reference only)
WHOLESALE ONLY

100% Genuine Product

Quick Delivery

Export to All Countries
Customers who bought this item also bought related products
Downy Sunrise Fresh Fabric Conditioner 1.6L Refill New Information
Enjoy a morning with gentle drops of sunlight creeping through the leaves. which are covering a fresh mist. And it gives your clothes superb delicate quality, freshness, and care. by using
Downy Sunrise Fresh Fabric.
The first feature of Downy is to provide long-lasting fragrance. And it allows you to enjoy the freshness of the fragrance. Which lingers on your clothes for 12 weeks from wash to wear. So using Downy you will not worry about the unpleasant odor of your body. Next, Downy helps to protect fabrics from stretching, discoloration and fluffing. Furthermore, making your fabrics softer and giving them a look new.
Besides, reducing static electricity, skin-safe and tested products are also excellent features of Downy product lines
.
The scent of Downy Sunrise Fresh Fabric Conditioner is mild and pleasant, it's hard to reconcile that it contains Sunrise Fresh 1.6L Refill material properties. Tough on germs, gentle on the senses. You'd want to bury your nose into the towels and sleep with it around your shoulders like a soft, fluffy blanket. Downy Sunrise Fresh Fabric Conditioner gives a great smell to our clothes even if it's stock in the closet the smell is always there. When you use downy sunrise fresh fabric conditioner 1.6L Refill. for faster drying, smell fresh, softens clothes, maintains its color, no need for ironing.
Ingredients
Consumers can count on the safety of the users of P&G products because safety is the top priority and the foundation of their operations. The ingredients of the product are listed in a clear, honest, and transparent manner on the packaging as well as on the online communication channels.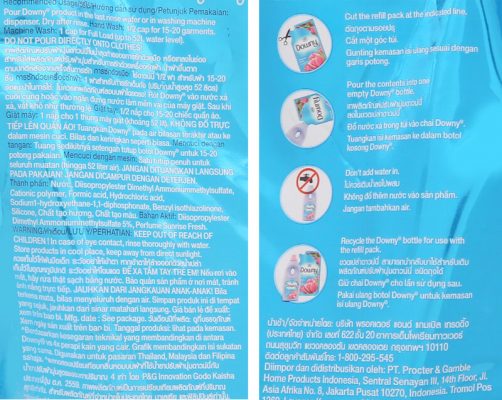 Uses of Downy Sunrise Fresh Fabric Conditioner 1.6L Refill
How to use Downy Sunrise Fresh for this washing machine is simple – just pour at least one lid filled with Downy Sunrise Fresh into the fabric softener before you start the machine. Fabric softener will be automatically added to clothes after the washing cycle.
If your washing machine does not have a fabric softener, do not worry too much. You only have to drain Downy Sunrise Fresh by hand after the wash cycle but before the final discharge cycle. Apply a full cap to optimize the fragrance of Downy Sunrise Fresh. Dissolve the fabric with a little water then pour into the cage.
For handwashing clothes: After washing your clothes thoroughly with detergent, you should squeeze the foam off the clothes and then let the batter. Mix the fabric with water, ensure enough water to fill up the clothes, and soak for 10-15 minutes. And then dry the clothes. Read the User's Guide carefully. There are many ways to use fabric softener, depending on the type of machine you are using, such as automatic or semi-automatic or you wash your clothes by hand. Be sure to always read the instructions on the packaging label, and check the laundry instructions on clothing before using fabric softener.
Warning:
After each use, close the lid tightly.
Do not expose it to sunlight and high temperatures for long periods.
Keep out of the children's reach.
Downy Fabric Softener Manufacturer
P&G
has started exporting goods to other countries since 2000, includes shampoo, bath soap, washing powder, deodorant perfume, floor cleaner …With famous brands such as Downy, Tide, Pantene, Rejoice,…
P&G sells downy fabric conditioner wholesale to Korea, American, Australia, and Japan markets …The top goal of P&G Vietnam is to serve domestic consumers; however, P&G never ignores good opportunities to increase the competitiveness of P&G in the world market.
Wholesale selling Downy Sunrise Fresh Fabric Softener 1.6L Refill New
We specialize in exporting Downy Sunrise Fresh Fabric Conditioner 1.6L Refill New by containers. If you are looking for suppliers in Vietnam. Please contact Asia Grocery Co., Ltd to have the best wholesale price.
Address: C2.04 Level 2, The Symphony-Midtown building, Street 15, Tan Phu, District 7, Ho Chi Minh, Vietnam
Phone: +84 909 046 308 (Whatsapp, Viber).
Email: contact@egrocery.asia