Downy Sunrise Fresh Concentrate Fabric Conditioner 4L
Barcode
4902430991636

(Click logo to view entire product range)
| | |
| --- | --- |
| SKU | HC01010010009 |
| HS Code | 34022015 |
| Place Of Origin | Vietnam |
| Label Text | English, Thai, Vietnamese |
| Units Per Carton | 3 |
Stock Status
Discontinued
Retail Per Carton
(For reference only)
Retail Per Unit
(For reference only)
Discontinued
WHOLESALE ONLY

100% Genuine Product

Quick Delivery

Export to All Countries
Customers who bought this item also bought related products
Do you know Downy Sunrise Fresh Concentrate Fabric Conditioner 4L will help you share your housework by protect and take care your clothes.
Safety is the the first important requirements for mom to choose the fabric softener. Downy Sunrise Fresh have been dermatologically tested and certified to suitable for all the ages clothes, so mom can surely use for family.
The scent of Downy Sunrise Fresh Fabric Conditioner is mild and pleasant, it's hard to reconcile that it contains Sunrise Fresh 3.6L terial properties. Tough on germs, gentle on the senses. You'd want to bury your nose into the towels and sleep with it around your shoulders like a soft, fluffy blanket. Downy Sunrise Fresh Fabric Conditioner gives great smell to our clothes even if its stock in the closet the smell is always there. When you use downy sunrise fresh fabric conditioner 4l for faster drying, smell fresh, softens clothes, maintains its color, no need for ironing.
More than just a fabric softener, it deals with 99% of germs that cause those funky odors on clothes. More so because it contains Freshness Bubbles, we can still feel fresh even when we sweat.
Formulated with fragrance and advanced technology will take each molecule fragrance flowers are super flexible and woolly penetration into each yarn. After that, these fragrances will stay on your clothes for a long time and will give you a pleasant scent whenever you move.
Downy Sunrise Fresh 3.6L is the helpful friend for every mom in doing the laundry. Choosing Downy Sunrise Fresh 3.6L to make the laundry easier.
Ingredients of Downy Sunrise Fresh Concentrate Fabric Conditioner 4L: Water, Diisopropylester Dimethyl Ammonniummethylsulfate, Cationic Polymer, Formic Acid, Fragrance,…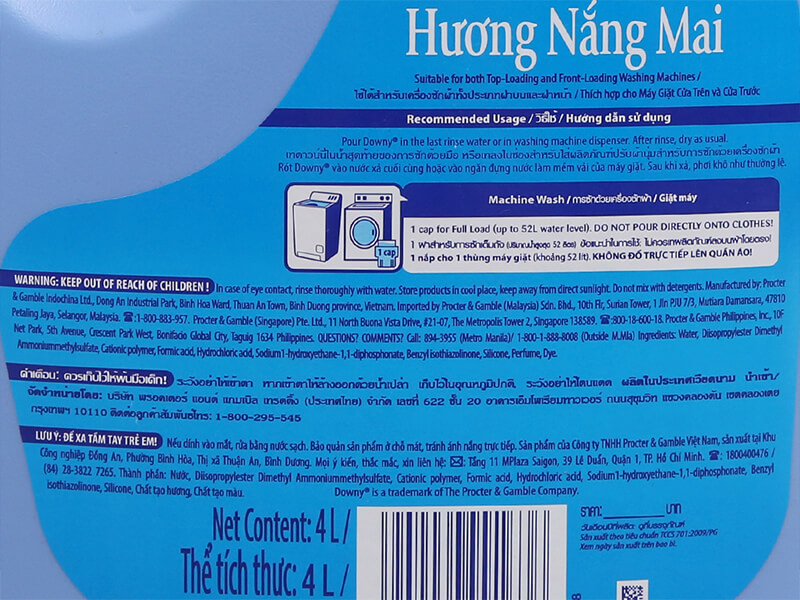 How to use Downy Sunrise Fresh for this washing machine is simple – just pour at least one lid filled with Downy Sunrise Fresh to the fabric softener before you start the machine. Fabric softener will be automatically added to clothes after washing cycle.
If your washing machine does not have a fabric softener, do not worry too much. You only have to drain Downy Sunrise Fresh by hand after the wash cycle, but before the final discharge cycle. Apply a full cap to optimize the fragrance of Downy Sunrise Fresh. Dissolve the fabric with a little water then pour into the cage.
For handwashing clothes: After washing your clothes thoroughly with detergent, you should squeeze the foam off the clothes and then let the batter. Mix the fabric with water, ensure enough water to fill up the clothes and soak for 10-15 minutes and then clothes, dry. Read the User's Guide carefully. There are many ways to use fabric softener, depending on the type of machine you are using, such as automatic or semi-automatic or you wash your clothes by hand. Be sure to always read the instructions on the packaging label, and check the laundry instructions on clothing before using fabric softener.
Source: https://egrocery.asia