Matcha TEA+ (Plus) 455ml
| | |
| --- | --- |
| Barcode | 8934588913051 |
| HS Code | 0000 |
| Label Text | Vietnamese |
| Place Of Origin | Vietnam |
| Unit Packing | Bottle |
| Units Per Carton | 24 |
| Export Packing | Wrapped Tray |
| Cartons per Pallet | 130 |
| Self-life | 12 |
Retail Per Carton
(For reference only)
Retail Per Unit
(For reference only)
WHOLESALE ONLY

100% Genuine Product

Quick Delivery

Export to All Countries
Customers who bought this item also bought related products
Matcha TEA+ (Plus) 455ml
Made from premium eco-friendly tea leaves. The item is not just a scrumptious beverage, however matcha Tea And also is likewise a nutritious useful food for health and wellness. Regular use the product will certainly assist you have a healthy body, a revitalizing spirit.
Light body, slim body with matcha Tea And also tea
Tea + Plus is a bottled tea item with a tasty, healthy and balanced preference incorporated with a modern as well as extensive handling procedure, guaranteeing the health and wellness of customers.
Matcha Tea+ Plus 455ml is made from all-natural components for a cool tea preference with all-natural matcha environment-friendly tea including high degrees of theanin, assisting to relax and unwind. On top of that, the item has an extremely mild sweet taste, ideal for day-to-day drinking without fretting about health issue.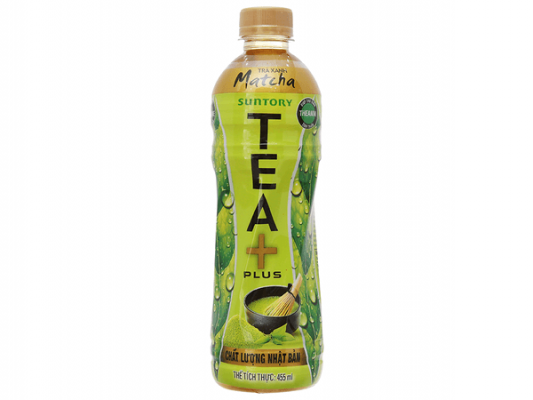 The item helps to quickly satiate thirst, aid replenish vitamins and minerals that are good for the body, quickly make up for the quantity of water shed in the body after exercising a lot or playing sports. Offers you a body full of vitality as well as a kicked back, sharp, efficient mind.
According to a study by scientists in Japan in 2005 has proven that green tea helps increase metabolism in the body 2 times more than oolong tea. This means that green tea contains more catechins which will increase the burning of energy and fat more. Therefore, if you have a reasonable green tea diet, you will lose weight.
Larger capacity – Relaxing, gentler
Products with larger capacity, drink more "already". Packed in a convenient, lightweight plastic bottle that is easy to carry and enjoy in parties, at the office, at school,…