RedBull Gold Energy Drink 250ML
Barcode
8935112200005

(Click logo to view entire product range)
| | |
| --- | --- |
| SKU | BE02010000367 |
| HS Code | 22021090 |
| Place Of Origin | Vietnam |
| Label Text | Vietnamese |
| Units Per Carton | 24 |
| Export Packing | Carton |
| Cartons per Pallet | 170 |
Retail Per Carton
(For reference only)
Retail Per Unit
(For reference only)
WHOLESALE ONLY

100% Genuine Product

Quick Delivery

Export to All Countries
Redbull Gold Energy Drink packing 24 cans x 250ml. Red bull energy drink main ingredients such as water, sugar, flavored synthetic, vitamin B3, B5, B6, B12, taurine … Therefore, not only a pure energy drink product. It also has the effect of improving health, cooling the body effectively.
The taste of Vietnamese Red bull
Taurine in Redbull Gold Energy Drink plays an important role in the body. Taurine is involved in the metabolism of the body, promoting the metabolism of sodium, potassium in the cell and detoxification, antioxidant, for refreshing. In addition, RedBull gold can contains some B vitamins that convert carbohydrates into sugars and help convert fat to energy in the body faster, improve the health of the body, and balance the nerve system.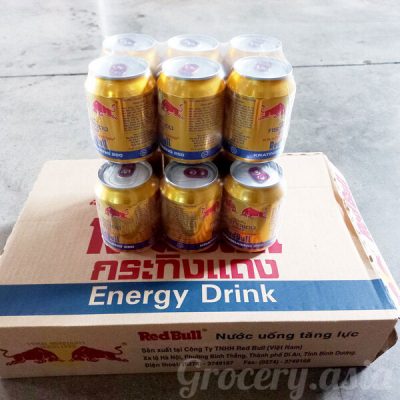 Red Bull Kratingdaeng is one of the first energy drink appeared on the market. The product is delicious, easy to drink. And it has become a part of our life was compact can compact should be very appropriate. Take it with you wherever you go, from the gym to the school, the office stressful working days and late nights or during trips, picnics, outdoor activities for many hours. Redbull energy drinks are very useful.
Redbull company penetrated the Vietnamese market in 1999, manufactured at Red bull Vietnam Co., Ltd. Address: Ha Noi Highway, Binh Thang Ward, Di An Town, Binh Duong Province, Vietnam.
==> See more: Red bull wholesale
Vietnam Red Bull is a non-carbonated Energy Drink. Red bull energy drink provides vitamins for resistance, is Easy to drink, Good body heat, Redbull is a Thai brand.
The user manual of Vietnam Red bull:
Drink directly, better when chilled.
Caution: Do not overuse this drink because it contains caffeine, caffeine abuse will cause the loss of substances such as calcium, magnesium, potassium. Do not use Redbull as soft drink. Vietnam Red bull has the potential to reduce transient thirst without rehydration, such as water or fruit juices. Many people drink this water when thirsty and drink large amounts at the same time, this is very harmful to the body and often produces counterproductive effects of the drink, the spirit is not conscious than the contrary feeling flowers eyes, dizziness more.
Preservation:
Keep in a cool, dry place, away from sources of heat or direct sunlight. Best use at 10ºC – 15ºC. Can be stored in the refrigerator.
Notes when used
In addition, the use of energy drinks properly should also note the following: Not everyone can use RedBull Gold Energy Drink 250ML, pregnant women, people with heart disease, diabetes, obesity, children, or atherosclerosis … should avoid drinking Red bull gold can. Resting after a strong activity, then drink a drink to regain energy. Pay close attention to dosage before use, read carefully the side effects to ensure the condition of the body is not likely to encounter these phenomena. Drinking energy drinks properly will help you balance the benefits of this drink. Do not abuse and use the wrong time, objects to avoid adverse health effects.
Distributor, exporter, and trader Red bull Wholesale Vietnam
Red bull energy drink yellow can with 6 pack/ carton: capacity of 250ml
RedBull wholesale price – Vietnam origin is about $0.4
We specialize in exporting RedBull Vietnam by containers. If you want to buy RedBull wholesale.
Please contact Asia Grocery Co., Ltd to have the best wholesale price
Address: C2.04 Level 2, The Symphony-Midtown building, Street 15, Tan Phu, District 7, Ho Chi Minh, Vietnam
Phone: +84 909 046 308(Whatsapp, Viber).
Email: contact@egrocery.asia