Asiadeli Rice Vermicelli 300G (10.5 oz.)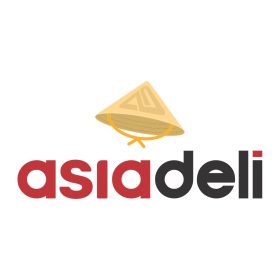 (Click logo to view entire product range)
| | |
| --- | --- |
| Barcode | 8938544440049 |
| Unit Packing | Bag |
| Units Per Carton | 15 |
| Self-life | 24 months |
| Label Text | English |
| Place Of Origin | Vietnam |
| Export Packing | Carton |
Retail Per Carton
(For reference only)
Retail Per Unit
(For reference only)
WHOLESALE ONLY

100% Genuine Product

Quick Delivery

Export to All Countries
Customers who bought this item also bought related products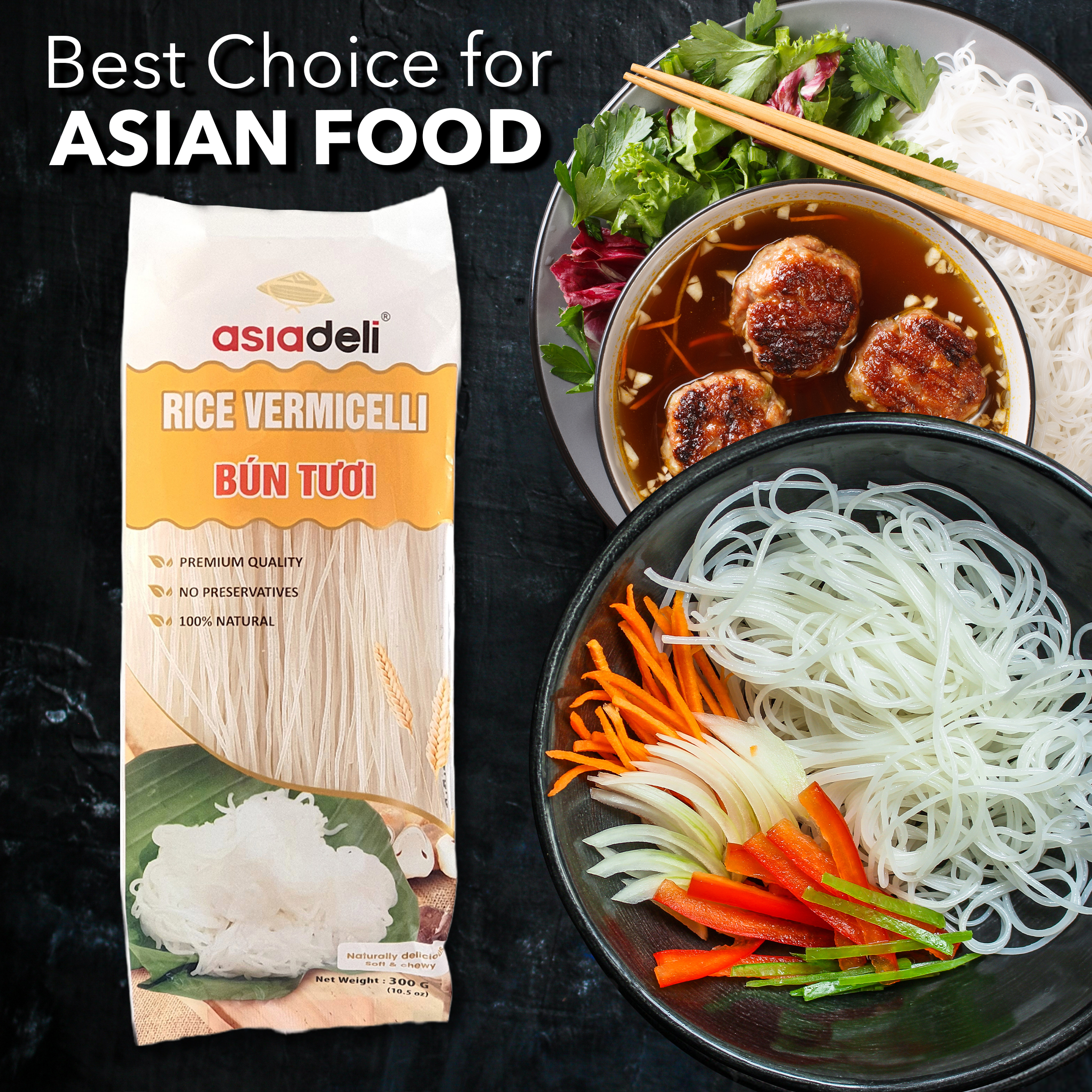 Asiadeli rice vermicelli is a traditional product of Vietnamese culinary culture. The delicious noodles combine with a variety of broths and typical ingredients from all over the country, creating famous dishes with the brand "Made in Vietnam". With a great love for traditional Vietnamese dishes, Asia Grocery Co., Ltd. has launched a line of high quality Asiadeli fresh vermicelli noodles, which meet ISO 22000: 2018 standards and have been approved by the Food and Drug Administration. The US Food and Drug Administration permits the export of goods through the US market.
With more than 20 years of experience in domestic production as well as for export,  Asiadeli believes in providing customers with products of superior quality. Production materials are carefully screened from input to ensure clean and non-GMO ingredients that can be used in both vegetarian and non-vegetarian diets. Our products meet the following criteria: no bleaching chemicals, no preservatives, no industrial colorants, no chemical additives. Besides, the production technology is closed, ensuring food hygiene and safety. The packaging used in the packaging process meets the standards used in the food industry and protects the environment. In particular, with the 100% machine drying process, this helps the vermicelli retain its rice flavor and deliciousness. We ensure that the quality products that reach our customers are tested and analyzed by experts. High-tech machinery and equipment of high quality standards.
Why should you choose Asiadeli Rice Vermicelli?
Despite the same origin of sunny and windy Cu Chi land and the same weight, Asiadeli rice vermicelli is still preferred by housewives. That's because it saves users a lot of time, has a 2-year shelf life, can be stored at room temperature, and is easy to use with many different dishes. As one of the foods commonly used in the family, dried rice vermicelli is increasingly being chosen by more and more people as an alternative food source for their daily menu to replace white rice. In addition to the usual nutrients. The high content of beta glucan soluble fiber facilitates the growth of beneficial bacteria, helping the digestive system work stably, creating a feeling of fullness for longer. Not stopping there, our company always takes product quality and consumer convenience as a guideline for the development of product lines. Some dishes made from Asiadeli rice vermicelli: crab vermicelli, beef vermicelli with pork, Chau Doc fish vermicelli, snail vermicelli, grilled meat vermicelli, Hanoi vermicelli…
Control blood sugar: rice vermicelli is one of the foods that should be used in people with blood sugar imbalance because it helps reduce glucose absorption in the intestines. Soluble fiber in rice after reducing starch helps to reduce blood sugar "peaks" and this is good for diabetics.
Helps lose weight: If you use vermicelli to replace starch in meals, it will have an effective weight loss effect, in addition to promoting metabolism, reducing the feeling of overeating and fat accumulation. Can be combined with your favorite vegetables, meat and seafood.
Helps to feel full for a long time: Breakfast with vermicelli dishes is great because it helps to feel full for a long time. Carbohydrates in vermicelli are absorbed slowly to help control appetite and especially maintain stable blood sugar levels.
Saving family costs: You may not know that with only 300g of dried rice vermicelli, you can boil it to produce about 1kg of fresh rice vermicelli, enough for the family and ensure food hygiene and safety.
Asian Grocery brings the quintessence of Vietnamese cuisine
Asiadeli rice vermicelli ensures market leading safety, quality and reliability. Because before being packaged for the domestic market as well as for export, the factory's production standards have been censored and licensed by the US Food and Drug Administration (FDA). Management of ISO 22000:2018 certification. Asiadeli always cherishes the desire to help Vietnamese people fight diseases by doing the simplest things. Be more careful in your daily routine, limit your intake of low-calorie starches and animal fats. Apply healthy eating methods, drink lots of water, eat "clean" foods, have health benefits from plants.
Intructions
Soak dried vermicelli in water for 5-7 minutes
Boil with boiling water for 5-8 minutes
Take out the vermicelli and rinse with clean water, drain it
Use as fresh rice vermicelli
Vietnamese Asiadeli rice vermicelli exported to several countries
Thanks to efforts to improve quality, Asiadeli products have been attached to Vietnamese consumers for many years. Not only conquering domestic users, this brand is also exported to many countries, including demanding markets such as the US, Korea, Japan, and we have surpassed through thousands of other domestic brands to be present on Amazon.
Distributor, exporter, and trader Asiadeli rice vermicelli Wholesale Vietnam
We specialize in exporting Asiadeli rice vermicelli by containers. If you want to buy Asiadeli rice vermicelli wholesale
Please contact Asia Grocery Co., Ltd to have the best wholesale price
Address: C2.04 Level 2, The Symphony-Midtown building, Street 15, Tan Phu, District 7, Ho Chi Minh, Vietnam
Phone: +84 909 046 308(Whatsapp, Viber).
Email: contact@egrocery.asia