Sting Red Ginseng Berry Blast Energy Drink 330ML Can
Barcode
8934588232220

(Click logo to view entire product range)
| | |
| --- | --- |
| SKU | BE02020000365 |
| HS Code | 22021090 |
| Place Of Origin | Vietnam |
| Label Text | Vietnamese |
| Units Per Carton | 24 |
| Cartons per Pallet | 130 |
| Export Packing | Wrapped Tray |
| Unit Packing | Can |
| Self-life | 12 |
Retail Per Carton
(For reference only)
Retail Per Unit
(For reference only)
WHOLESALE ONLY

100% Genuine Product

Quick Delivery

Export to All Countries
Customers who bought this item also bought related products
Sting Red Ginseng Berry Blast Energy Drink comes with a scrumptious mix of caffeine, taurine, and vital vitamins made to satisfy your standards and see to it that you really feel the hype that you needed on all occasions. That stated, Sting includes 200mg of caffeine and 34.3 g of sugar, which is reasonably high.
If you would certainly such as a more in-depth description of the vital components as well as nutrients in Sting, kept reading to learn!
Sting Red Ginseng Berry Blast Energy Drink 330ML Can
Firstly, Sting Strawberry Energy Drink is one of PepsiCo's energy drink brands in the beverage industry. Uniquely, Sting with formulated with 4 year old red ginseng and red strawberry flavor, will bring you a spirit of excitement and alertness right after drinking, giving you a ready mindset for any challenge.
Secondly, With a handy small can design, the product is suitable for being carried in sports sessions or outdoor trips; the cans are made from clean, environmentally friendly materials, helping to preserve the product with its taste without fear of spoiling.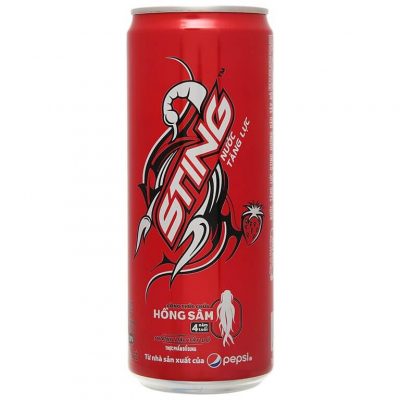 Product of Information:
| | |
| --- | --- |
| Trademark | Pepsi sting energy drink vietnam |
| Origin | Viet Nam |
| Finished product | CO2 saturated water, cane sugar, acidity regulator, natural & synthetic flavoring mix, premixes, vitamins, … |
| Volumetric | 330ml |
| User Guide | Drink it directly. Shake gently before drinking, use immediately after opening. More delicious cold drink |
| Preservation | Store in a cool, dry place, away from direct sunlight or high temperature. |
| Expiry date | 12 Months from date of manufacture |
| Specifications | 330ml*24 cans*cartons |
Ingredients of Sting Red Ginseng Berry Blast Energy Drink 330ML Can
Thirdly, The ingredients of Sting include ingredients of natural origin such as CO2 saturated water, acidity regulator, natural strawberry flavored blend and ginseng, etc.,… which are truely and transparently displayed on the packaging as well as on the company's official website.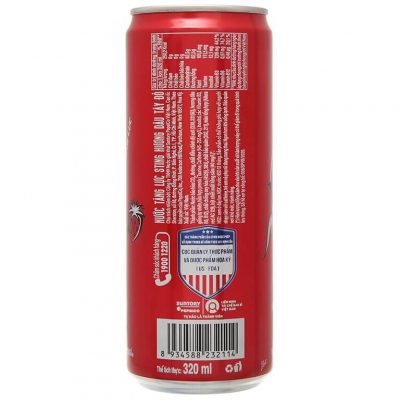 However, Caution: Do not overuse this drink because it has caffeine, high levels of caffeine misuse will certainly cause the loss important such as calcium, magnesium, potassium. Do not make use of as soft drinks. Sting energy drink Vietnam have the possible to reduce short-term thirst without rehydration, such as water or fruit juices. Many individuals drink this water when dehydrated and consume huge quantities at the same time, this is really hazardous to the body and usually produces counterproductive effects of the drink, the spirit is not aware than the in contrast sensation blossoms eyes and dizziness extra.
Conservation:
Keep in a trendy, completely dry place and away from resources of heat or direct sunlight. Best use at 10ºC– 15ºC so can be stored in the refrigerator.
In addition, using energy beverages correctly should also note the following: But every person can use sting power drinks, expecting females, individuals with cardiovascular disease, diabetes mellitus, obesity, kids or atherosclerosis … ought to stay clear of drinking sting red gíneng berry last energy drink. Resting after a solid activity, then consume a drink to regain power. Pay close attention to dose prior to usage, reviewed very carefully the negative effects to guarantee the condition of the body is not most likely to run into these sensations. Consuming alcohol energy drinks properly will assist you stabilize the benefits of this drink. Do not misuse as well as make use of the wrong time, challenge stay clear of adverse wellness effects.
Wholesale selling Sting Red Ginseng Berry Blast Energy Drink 330ML Can
We specializes in exporting Sting Red Ginseng Berry Blast Energy Drink 330ML can by containers. If you are looking for suppliers in Vietnam. Please contact Asia Grocery Co., Ltd to have the best wholesale price.